Welcome to Our Practice
Ear, Nose, Throat and ENT Allergy Specialists
Ear Nose Throat and Allergy Specialists of Northwestern Pennsylvania was formed in 1998. We are Erie's ONLY INDEPENDENT ENT practice! We accept BLUE CROSS/BLUE SHIELD, UPMC, AETNA, UNITED HEALTHCARE, MEDICARE MediCaid AND MOST OTHER INSURANCES. We also provide care for patients at AHN SAINT VINCENT, UPMC HAMOT and LECOM Millcreek Hospital and see patients from the tri-state area. We service an estimated 715,250* people.

Our Doctors offer care for all your adult and children EAR, NOSE and THROAT and ENT ALLERGY needs. We also provide audiology services which include hearing loss evaluation, and hearing aid services. We welcome self-referrals and are most pleased by referrals from our existing patients.
Appointment times are listed below. To schedule an appointment, telephone our office daily from 8:30 am through 4:30 pm, at (814)-864-9994.


Congratulations to our Audiology Department Erie's Choice Award Winner 2023-8th year running!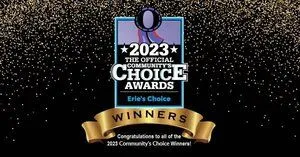 * Source: US Bureau of Census